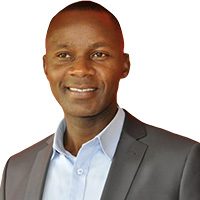 Dr. George Kimathi
Director, Amref ICD
Dr George Kimathi is an accomplished health development specialist with over 18yrs experience in design and implementation of integrated public health programs. He has hands-on experience in core Primary Health Care methodologies with particular interest in contextualized innovations for delivering Universal Health Coverage (UHC) in Sub-Saharan Africa.
George is the Director, Amref Institute of Capacity Development (ICD) providing overall leadership to Amref's Human Resources for Health (HRH) agenda. Besides, he oversees diverse health education and training programmes spanning over 20 countries in Africa. He's the Africa Lead for the Innovative for Life Fund. Recently, he was the Ag. Deputy Country Director for the $40M (annual) Amref Kenya program.  Previously, he held prime team leadership roles in various International NGOs and the Government of Kenya.
He holds a PhD, MSc and BSc degree in Epidemiology and Public Health and is a Health Systems Development and Management Lecturer at Amref International University. Further, he has successfully supervised PhD and Masters Students in various universities for over 4 years. He's widely published and has presented research/opinion papers at regional and global fora.