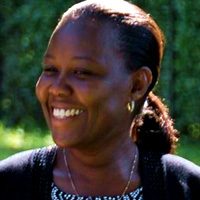 Diana Mukami
Director, eCampus
Diana is the Director, eCampus at Amref's Institute of Capacity Development. She has experience in project planning, design, development, implementation, management, and evaluation. Since 2005, Diana has been involved in distance education programmes in the public and private health sectors. These have included the implementation of in-service and pre-service training programmes for health workers in countries such as Kenya, Uganda, Tanzania, Zambia, Malawi, Senegal, and Lesotho, in partnership with Ministries of Health, regulatory bodies, health worker training institutions, and funding organizations.
Diana believes that technology, used the right way, contributes significantly towards the development of responsive human resources for health in Africa. Diana holds a degree in social sciences, a post-graduate degree in international relations, and a post-baccalaureate certificate in instructional design from Athabasca University.
Outside of work, Diana is a voracious reader and has lived many lives through books. She also enjoys traveling to new places.