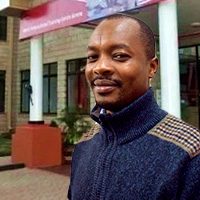 Dennis Munai
Public Health Professional
Dennis Munai is a public health professional with 8 years' experience and a successful track record in organizing and executing projects, and engaging with stakeholders for project implementation. He is an experienced community development practitioner with a Bachelor's degree in Environmental Health and currently finalizing his Masters of Public Health (MPH) from Kenyatta University. He has implemented and managed projects in Health, Water, Sanitation and Hygiene (WASH), Nutrition, HIV and AIDS, Research and Advocacy with national and International NGOs operating nationally.
Mr. Munai has experience in curriculum and content development, multi-stakeholder engagements, program management, public engagement, negotiation and public policy development and implementation, competitive and strategic planning, lobby and advocacy, partnership building and networking and project budgeting, formulation and forecasting.
Mr. Munai recently worked with Kenya Water and Sanitation Civil Society Network (KEWASNET), a national membership organization of over 70 international and national Civil Society organization working in the Water, Sanitation and Hygiene, and Water Resources Management sector, as a Regional Program Manager. He has previously worked with WASH Alliance Kenya as a program officer supporting 10 civil society organizations implement an integrated WASH project and has also supported project implementation in the Research, Advocacy and Business Development (RABD) unit in Amref Health Africa, Kenya.
In the RABD unit, Mr. Munai notably successfully supported the undertaking of an operations research on Human Resources for Health (HRH) on factors affecting the motivation and retention primary level health care workers in three disparate regions in Kenya and supported the review of scientific papers and research protocols in the Amref Health Africa, Ethics and Scientific Review Committee (ESRC).